< Onymos Blog
Onymos' 2022 Year in Review and Predictions for 2023
It's December, and there is no better time to reflect on all that has happened throughout 2022. And, it's an even better time to look forward to what 2023 may bring.
Follow along our journey over the past year and hear our thoughts on the changes we anticipate in the year to come.
A Big Year of Progress
To say that 2022 was an exciting year here at Onymos would be an understatement. Our team has been busy innovating, helping customers bring their applications to market faster, and just having fun.
One of our biggest moments of the year happened in June. We announced the close of our $12 million Series A round of financing led by Great Point Ventures, with participation from Benhamou Global Ventures, Engineering Capital, and Industry Ventures. This financing round has helped us continue to accelerate our vision to help simplify and expedite application development for Companies through our Features-as-a-Service platform.
At the time of the news, our founder and CEO Shiva Nathan said, "I am excited about what lies ahead of us, as we are just beginning." And, he was right.
Several weeks after our Series A news, technology industry Veteran Keith Feingold joined our team in August. We couldn't have been more excited! He has brought decades of invaluable experience to Onymos, helping us to accelerate our business expansion.
Later in August, we unveiled a new bundled offering for healthcare, Know Your HealthDocs. This new bundle enables companies or engineering teams to rapidly create applications that require digital scanning, enhancement, recognition, and verification of physical documents and forms. By deploying Know Your HealthDocs, companies can arm their frontline healthcare workers with innovative applications that relieve frontline staff from the tedious, error-prone, and time-consuming process of manually vetting and transcribing medical documentation.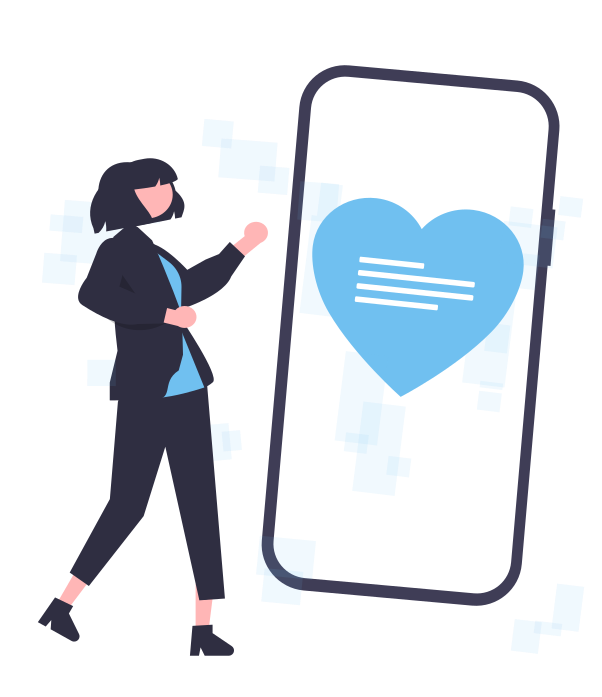 In September, our distributed team gathered in San Francisco for the first time since the pandemic. We had a blast bonding, celebrating our milestones, flexing our innovative minds and creativity, and brainstorming new ways to help our customers. While there was a really exciting egg drop experiment that took place during the week, we can't confirm or deny that there were also some really competitive — and fun! — rounds of bowling mixed in there as well. We can't wait until our next meet-up in 2023!
Finally, in October, we released our newest feature: Payments. This new feature gives engineering teams the power to quickly, seamlessly, and securely incorporate payment functionality into applications. Not only does the feature allow developers to link with payment providers like Apple Pay, Google Pay, Stripe, and PayPal, but it helps them address compliance and security requirements too.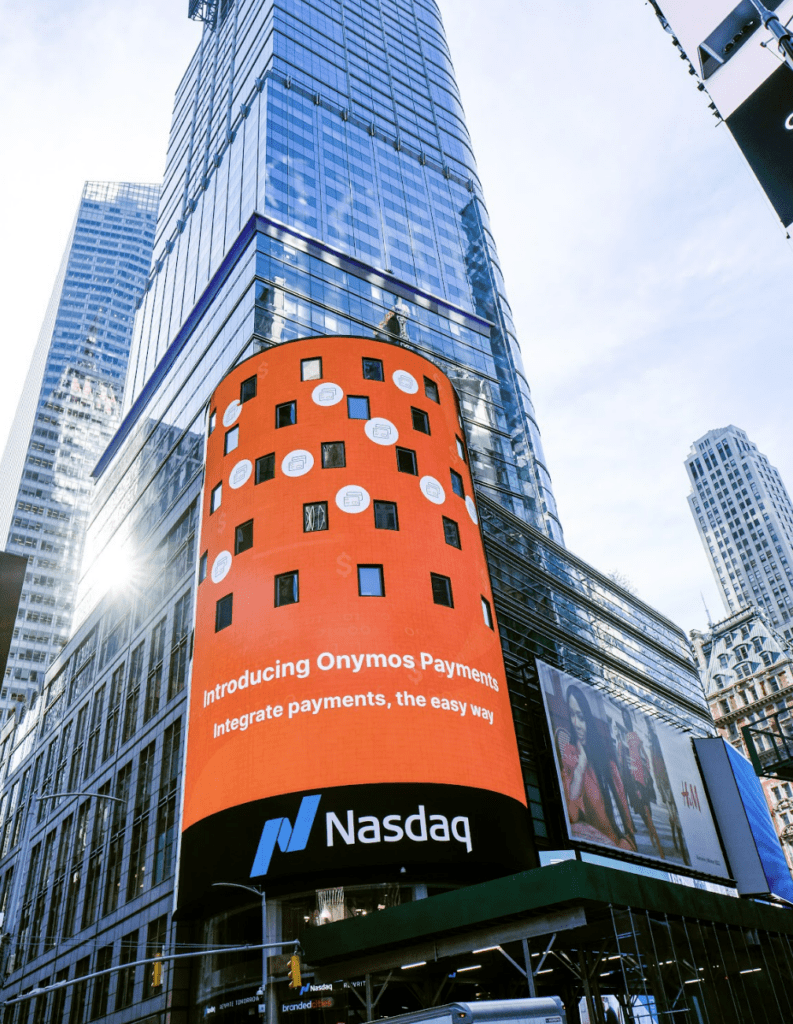 It was a crazy, yet amazing year here at Onymos! We're excited for what 2023 will bring for our team and customers.
A New Year of Change for the Tech Industry
While we're not yet ready to spill the beans on what's in store for us next year, we recently sat down with our founder and CEO Shiva Nathan to hear his thoughts on what we can expect from the technology industry in 2023.
Here are the 6 big trends he anticipates our industry will see: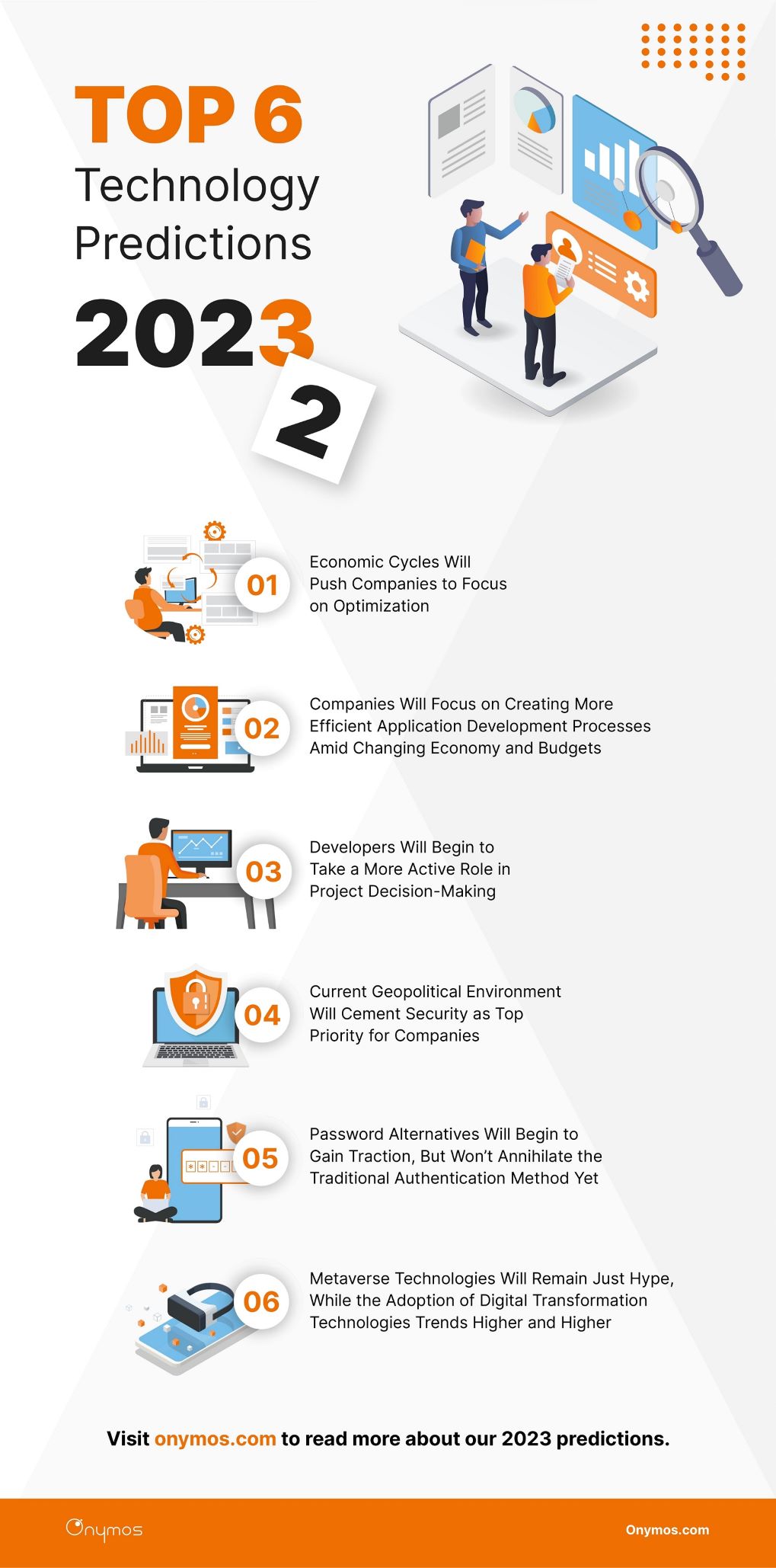 1. Economic Cycles Will Push Companies to Focus on Optimization
With recessionary forces lurking across the world's economies, every organization will reduce growth spending and lean more toward optimizing what already exists. Optimization technologies are all about doing more with less, which essentially could take many forms. Technologies that help increase the development velocity of existing teams, decrease friction in end-to-end engineering processes, and reduce spending on Cloud and other SaaS providers will all gain traction.

2. Companies Will Focus on Creating More Efficient Application Development Processes Amid Changing Economy and Budgets
A looming recession necessitates efficiency, and many signs are pointing to Companies revising (that is, cutting) software and application development budgets. This is where the excesses of the past — like re-inventing core app features and wasting resources on non-value-adding maintenance work — will be looked at critically, and the increased adoption of approaches like Features-as-a-Service (FaaS) will occur. Companies will work to extract the last ounce of efficiency from systems, processes, people, and spend. Applications will reflect this mindset and strive to operate with lesser resources, reduced friction, and more consolidation. Teams will be smaller, new hires will be more senior, and technology that enables developers will be more vital.
3. Developers Will Begin to Take a More Active Role in Project Decision-Making
In 2023, developers will need to take a critical look at what they are working on and the projects they are being asked to complete. If developers find that they are working on items that could as easily be acquired as a service from elsewhere, or they are working on maintenance items that do not really add value to what sales team can sell, then they need to be alarmed. Before the axe comes down from company management and leadership, developers need to proactively propose how their work could be done more efficiently and what real value-add activities they could be focused on alternatively. This proactiveness is what will grow careers in the next few years. On the other end of the spectrum, if the developers are working on futuristic items that do not have immediate commercial value, those will be a cause of concern as well in the recessionary economy that is anticipated. In short, developers have to work on the here-and-now more efficiently, and on what their sales team can sell today, in order for their businesses to remain successful and profitable.
4. Current Geopolitical Environment Will Cement Security as Top Priority for Companies
Coupled with the geopolitical turmoil we have, there will be a larger uptick in cybercriminal activity. Securing against such cybercriminal activity will be a focus for many organizations large and small, and I believe that the size of the organizations attacked and the size of spoils for which such activities are performed will both trend down. What's more, privacy as a feature (e.g., increased privacy options and support) will gain more traction in 2023. This trend will be accelerated by two factors – 1) an increase in cybercriminal activity necessitating increased privacy and 2) the availability of technologies to help consumers safeguard their privacy better.
5. Password Alternatives Will Begin to Gain Traction, But Won't Annihilate the Traditional Authentication Method Yet
There will be increased adoption of more secure technologies than passwords, particularly with the onslaught of cybercriminal activity and increased focus on privacy. More websites and apps will offer alternate authentication mechanisms to passwords, many of which will involve biometrics. The two major platform players — Apple & Google — will increase the adoption of passkeys/FIDO. It will be interesting to watch how the other two behemoths that do not control a consumer platform — Amazon & Microsoft — react to this change.
6. Metaverse Technologies Will Remain Just Hype, While the Adoption of Digital Transformation Technologies Trends Higher and Higher
While there might be flashes of jazzy product introductions around Metaverse technologies, there will not be any mass adoption or game-changing impact in 2023 stemming from Metaverse. These technologies will remain just hype for the foreseeable future until more and more Companies gain a better understanding of this space and its impact. Technologies accelerating digital transformation, with a focus on cost reduction, will gain steam in 2023. The digital transformation trend that started during the Covid pandemic will only continue to accelerate as Companies look for new ways to extract efficiencies in systems and processes.
To hear more thoughts from Shiva or get the latest news from our team, make sure you check back by visiting our Resources page.