Sherpa Digital Media (acquired by Telestream) is laser-focused on delivering secure, private video communications for enterprises. Sherpa counts some of the world's premier companies as customers, empowering them to share immersive video experiences with employees, partners, and customers with a new level of simplicity and scale.
Requirements
Since its inception, Sherpa has delivered its video experiences through browsers. As a 'least-common-denominator' across desktops, laptops, tablets, and smartphones, being compatible with all browsers on all devices was a source of pride for the sales and marketing teams, and a headache for the engineering department.
The user demographic has shifted consistently towards mobile devices, where a browser-based interface is 'adequate'. "We needed a native App for our smartphone users," said Jonathan Orner, Vice President of Customer Engineering for Sherpa Digital Media.
"The browser-only experience was falling behind in terms of security and privacy requirements, as well as what mobile users expect from a video service. We wanted a way to extend the service we had while taking advantage of the new capabilities available on a smartphone."
"We have a very capable development team well-versed in web technologies, but like all engineering groups, it's over-worked."
Results
"We chose the Onymos bundle because it offered a clear value proposition for our team. The Onymos Features were simple to integrate and dramatically shortened our engineering schedules. I don't think the team truly appreciated the 'touch-to-cloud' concept of a full stack component, from front-end to back-end connectivity into our AWS cloud. It really shortened the dev cycle," said Orner.
"But it was Onymos' on-board media processing and video compression that really shined. Dealing in video, both streaming and video capture/upload, the Sherpa app needs powerful video manipulation and Onymos delivered," continued Orner. "Plus, we have plenty of consumer products customers, and they are very concerned about privacy laws. Onymos' serverless architecture, ensures any Sherpa (or Sherpa's customer) data exists only on the device, or Sherpa's registered server. This is a big selling point for us."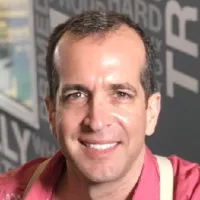 Jonathan Orner
VP Customer Success,
Sherpa Digital Media
"Onymos delivered the functionality and support we needed to help our web team with mobile App development."